SHANGHAI THEATRES
CONTACT INFO
Email Book Tickets:
Social Share:
Shanghai Ccentre Theatre Tickets
Show Information
Time: 19:30-21:00
Venue: Shanghai Centre Theatre上海商城剧场
Address: No. 1376 West Nanjing Rd, Shanghai,南京西路1376号。
Theatre Sell Full Price: 380 RMB 280 RMB 180 RMB
Our Discount Price From: 240 RMB 180 RMB 130 RMB

Booking email: shanghaiacrobatics@hotmail.com
The printable taxi instructions and map in Chinese and English to get to the Shanghai Circus World
Theatre List Full Price and Our Discount Price: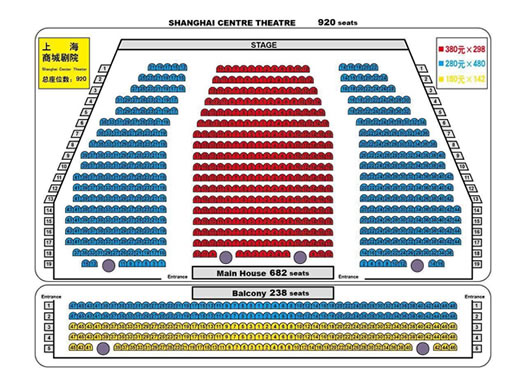 tickets list price

tickets 2-5

tickets 6-9

tickets10+

CNY

$US Dollar

CNY

$US Dollar

CNY

$US Dollar

170

26

23

20

240

37

32

28

300

46

40

37
How it work?
Step 1 : Choose your seat from Shanghai Centre Theatre Seat Map below.
Step 2 : Please via email to shanghaiacrobatics@hotmail.com or fill in the booking form below, We will have your booking confirmed in 30 mins.
Step 3 : Let us know your booking date, price, name, show time, number of  tickets.
Step 4 : When your booking is confirmed, When your booking is confirmed, you will get a confirmation email or call from us.
Step 5 : You meet our guide at theatre 30 mins before recive your tickets, Tickets not available directly from the ticket window! Discount tickets available only through us!
Note: The discount tickets need to be booked 2 days in advance!!!